Dyeing
Dyeing Fur
Available from the first moment you enter Saliko Village, Alexandra Gibson gives the unique option to change your fur color. This is done by adjusting your base color (hue), ink, dye and bleach.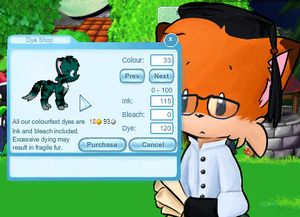 Ink makes your fur color darker, while bleach makes it lighter.
Last is the "Dye", which is the actual fur color which you're modifying. The more dye, the more powerful you're making the base color while the less dye means a weaker color.
Bleach and ink counteract each other - a bleach of 50 and a ink result in the same darkness as if you left both values at 0.
While you can type a larger number than 100 (or a smaller than 0) in the various boxes, they are clamped to 0-100.
Cost
The cost of dying your fur is 55.7 silver per level (rounded down), increasing linearly from 55 silver for level 1, to 18 gold and 93 silver at level 34.
Dyeing Equipment
The function to dye equipment is possible in the game, but only after completing a series of quests, beginning with Richard in Ashaya Village.
1. Help solve Richard's quests between him and Andy in regards to his needle shortage for sewing. This involves the quest line starting at Tailored Help, In Need of Needles, and ends at Needles Troubles.
2. The quest line will continue further to the quest Stix and Stones..., which takes you back to Coren located in the map A Small Cave In the High Plains back at Saliko. With this quest, you require a group of players in order to do the Stix trial, which you can queue for manually through Coren (to other players they would find the Stix and Stones trial in their Battle tab). After retrieving the sting and handing it into Coren, the quest line will continue to Saliko Souvenirs, where you will deliver the newly made sting into a sewing needle back to Richard.
3. Richard will ask you to help his father Sergei (located in Energy Forest II three maps east of Ashaya Village) in the quests Townsfolk Troubles' and Townsfolk Troubles' II. He will hear a voice coming from the east, in the quest Tourists!.
4. You'll have to go east to Crystalthicket Cave, taking the northern-most portal to a hill, where you find the NPC Cale and yet another trial boss, Ichas. The next quest is Ichas' Ire, where you require a group of players once again, queuing through the Ichas' Ire trial. Once Ichas is defeated and you have saved Cale, the final quest will be Better Late Than Never from Cale, having to report back to Richard. Upon completing the quest, you gain the ability to dye your equipment.
With the ability to dye now, you'll need an actual dye powder (see Notes for more info) if you want to change your equipment to that color. Right-click (Ctrl + Left-click for client version) a piece of equipment that is labelled Dyeable, then select the option "Dye Item". You will get a window allowing you to preview how each of the dyes (regardless of whether you have them or not) will change the color of your equipment. Select the dye that you have, and press Ok to confirm the change.
Notes
Not all equipment is dyeable. An equipment has to be labeled "Dyeable" in order for it to be actually dyed. You cannot dye equipment while you still have it equipped (you must unequip it first, then dye it from your inventory).
Uncommon colors are sometimes sold from players in the Auction House, or can be found by defeating certain monsters across (Emeraldscale Lizard, Living Diamond, Living Coal, Nightbloom Lizard, etc).

After helping Richard with some quests, he will open his dye shop, which sells a variety of common color dyes for 50 silver each.
Helping Yvi with a few quests will unlock access to her tent, as well as her shop, selling a special Bleaching Dye for 10 gold. While Yvi only sells one other purple dye being Nightsky Dye, Frostbell in the Timeless Waters (located southern most portal to the east in the Forest of Illusion, west of Temple of Trials) sells a variety of purple dyes for several common materials.
Helping out Samantha with her quests allows you to access her shop, selling various dyes.

Only one dye can be used for a single piece of equipment. Dyes cannot be combined together.
Each equipment has their default set of colors (part of their design) that will dramatically impact the dye's ability to recolor the equipment. For instance, an emerald dye may not actually come out as greenish-blue colors on your equipment and could come out as blue instead. After dyeing, you cannot return the colors of that equipment to it's default, however you can dye it in a similar color that it was in previously.
Guild Tabard Change
Similarly to your fur, a guild leader can also change the dye of their guild's tabard at Alexandra, as well as its logo. Changing the guild tabard dye costs 10 gold. Changing the logo displayed on your guild tabard is free, however when you update it, other adventurers may still see the old logo for a day or two, before it is removed from cache.
---